I think we are just about ready for a baby now.
I've spent the last couple of months buying a little bit here, a little bit there. I've done almost all of it with my spare "spending cash", stretching a little further than normal on nail and hair appointments and other fun stuff to fit it in. We have a couple of big ticket items that are absolute necessities which haven't arrived yet, but they've been promised by grandparents so it's just a matter of getting them ordered and shipped.
The most fun thing to buy is diapers. I'm pretty committed to using cloth diapers. They are better on the environment, save money, better for baby's butt, and their so darn cute! I've bought a sampling of each type. Most people don't realize how much diversity there is in the cloth diaper world! I think most people still think "cloth diapers" and picture the big napkin things that you have to wear plastic pants over. But diapers can be so much more fun than that. Here is a mini summary of your cloth diaper options:
"Pre Folds" - these are what you get from diaper service. It's a napkin that has been sewed several layers thick to save you time. You do some diaper orogami, wrap it on baby's butt, and put a "wrap" over it. Wraps are mostly a plastic material but also come in organic options like Merino Wool. I've got 36 of these but they are infant sized. They say they can also be used as burp cloths, and I confess I've already used a few to clean up household messes. They say you should be prepared to go through about 12 a day.
"Fitted" - these are diapers that have already been sewn to fit like a disposable. They aren't waterproof so you still need a wrap, same wraps as the pre folds. I've got 6 of these made from bamboo and 2 made from hemp.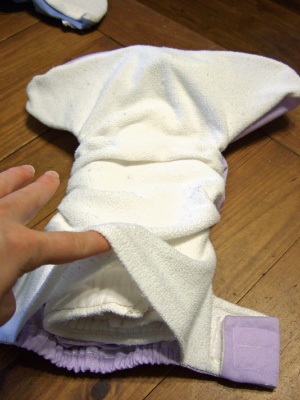 "Pocket" - this is where diapers get cute. Pocket diapers look just like disposables, only with velcro or snaps instead of sticky tape. The outer layer is made of a waterproof material, and the inner is a soft moisture wicking fleece. They have a pocket in the crotch area where you insert what I call a "stuffy". Stuffies look like maxi pads. They are thick and plush, and if you want you can put more than one per diaper for extra absorbancy. Lots of the pocket diapers come in adjustable sizes so that they can grow with baby. I have 6 of these and 5 more on the way (cuz I found a deal on ebay).
"All in One" - these are just like pocket diapers, only the stuffy is sewn in. These come in specific sizes and you have to be prepared for baby to outgrow them. I guess this is because the sewn in stuffy doesn't allow as much room for growth. I've got 6 of these too, but one has mysteriously disapeared.
I admit it, I'm obsessed. These diapers are so cute and fun. I almost can't wait to change them! I already bought the special cloth pail and pail liner. And the mini bags for the diaper bag. And I've got cloth wipes and special home made wipe fluid. And special detergent and stain treater. Erik's got the diaper bug too...last night he ordered some more because he thought we needed more hemp diapers for our stash (I think he bought 6 hemp fitted diapers + 6 extra hemp stuffies). Both drawers of my changing table are stuffed with diapers. One of the drawers is literally bursting.
My biggest stress right now is finding a day care provider who is willing to work with the cloth diapers. Like I said, I think most people envision the old fashioned diapers when you say cloth. I think we're going to have to go for a home based day care, and none of them are willing to talk to you until your ready to be a customer. I'm confident we'll find something, it's just a little stressfull knowing it will have to be a last minute decision.
I'm going to go check the mail now...expecting my ebay diapers soon...